FRAMEworks are a series of online guides that promote the innovative ways that transatlantic cultural dialogue and international collaborations can benefit museums of the 21st century. Through these useful guides, educators share their recommendations and practical advice drawn from partnerships among member museums in the extensive FRAME network of intellectual resources on both sides of the Atlantic. FRAME encourages these professional exchanges among museum staff in its network and provides the catalytic support necessary for research and the development of a wide array of ground-breaking projects and programs.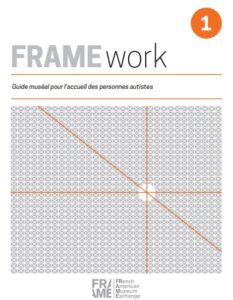 Tous membres du réseau FRench American Museum Exchange (FRAME), le Dallas Museum of Art, le Musée des beaux-arts de Montréal et le Palais des Beaux-Arts de Lille ont développé depuis plusieurs années des expertises reconnues en matière d'accueil des personnes autistes. En raison d'une sensibilisation accrue à cette condition et du fait de l'évolution des critères de diagnostic, une augmentation de la prévalence de l'autisme est notable partout dans le monde.


Cette réalité a suscité une prise de conscience généralisée dans les domaines scientifique, politique, éducatif, de même que dans le champ artistique et culturel. Depuis quelques années, les neurosciences reconnaissent en effet les bienfaits de l'expérience artistique et des pratiques culturelles sur la santé. Les études montrent que les œuvres d'art entrent en résonance avec l'être humain et stimulent ses émotions, favorisent entre autres l'empathie et le développement de la confiance en soi. Les activités menées à Dallas, à Montréal et à Lille avec les publics autistes s'inscrivent dans cette dynamique qui confirme l'importance croissante du rôle joué par l'institution muséale dans la vie sociale.


Cette publication dédiée à l'accueil des personnes avec un trouble du spectre de l'autisme inaugure une série d'initiatives intitulées « FRAMEworks ». Ce document est un recueil de conseils pratiques qui peuvent s'appliquer à d'autres musées à partir des expériences menées à Dallas, à Montréal et à Lille. Rédigé de manière suffisamment souple pour s'adapter aux spécificités d'autres institutions muséales, ce guide est amené à évoluer au gré des recherches et des découvertes scientifiques et humaines.


Conformément à la mission du réseau FRench American Museum Exchange, ce guide est une façon innovante de promouvoir le dialogue culturel transatlantique et de favoriser le développement des musées du XXIe siècle dans une perspective globale, qui est à la fois respectueuse de leurs spécificités et soucieuse de rapprocher ces institutions sur la base d'objectifs communs. À travers cette publication, nous sommes heureux de partager avec le plus grand nombre les expertises croisées dans le réseau FRAME.


Anne-Solène Rolland et William Beekman, coprésidents de FRAME
Emilie Vanhaesebroucke et Marguerite d'Aprile Quigley, directrices exécutives de FRAME
Read More »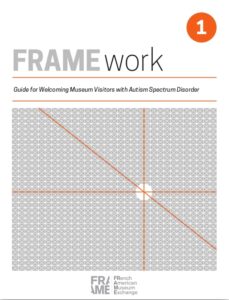 The Dallas Museum of Art, the Palais des Beaux-Arts de Lille and the Montreal Museum of Fine Arts, all members of the FRench American Museum Exchange (FRAME), have been working together to develop a recognized expertise in welcoming people with Autism Spectrum Disorder. In recent years, neuroscience has recognized the therapeutic benefits of artistic experience and cultural practices for autistic audiences. Medical studies have shown that works of art stimulate human emotions, foster empathy and help to develop self-confidence in visitors with Autism Spectrum Disorder.


This publication, which is dedicated to helping other art museums develop programs to welcome people with Autism Spectrum Disorder, launches a series of FRAME initiatives called "FRAMEworks." This document offers practical advice to other museums based on the experience in Dallas, Lille and Montreal. Written in a flexible manner to be adapted to the specificities of other museums, this protocol is likely to evolve with scientific and human research and discoveries.


In compliance with the mission of the FRench American Museum Exchange, this "FRAMEwork" is an innovative way to promote transatlantic cultural dialogue and to foster the development of ground-breaking and worthwhile programs for museums of the 21st century. We are happy to share our findings with you and all of our global colleagues.


William Beekman and Anne-Solène Rolland, Co-Presidents of FRAME
Marguerite d'Aprile Quigley and Emilie Vanhaesebroucke, Executive Directors of FRAME
Read More »