FRAME will host the 2023 Annual Conference on October 4 – 6 at the Museum of Fine Arts, Houston.  The Plenary Session will feature Adrian Ellis, Principal, AEA Consulting, who will lead the discussion on FRAME's strategic plan. A vote to adopt the strategic plan will be taken. FRAME welcomes the directors and one professional staff member from each museum in the network to attend the 2023 conference. Following the meeting, participants are welcome to join the optional post-conference tours planned for Saturday, Oct. 7 through Monday, Oct. 9 in Houston and Dallas/Fort Worth. The program schedule and further details about the conference and tours will be sent to the directors by email by June 30.
About the Museum of Fine Arts, Houston
The Museum of Fine Arts, Houston, is the largest cultural institution in the southwest region of the United States. The Museum's encyclopedic collections of nearly 70,000 objects cover world cultures dating from antiquity to the present. Spanning 14 acres in the heart of Houston's Museum District, the main campus comprises the Nancy and Rich Kinder Building, the Audrey Jones Beck Building, the Caroline Wiess Law Building, and the Lillie and Hugh Roy Cullen Sculpture Garden. Nearby, two house museums—Bayou Bend Collection and Gardens, and Rienzi—present collections of American and European decorative arts.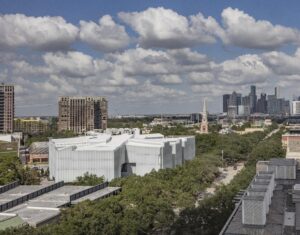 The MFAH is also home to the Glassell School of Art, with its Core Residency Program and Junior and Studio schools; and the International Center for the Arts of the Americas (ICAA), a leading research institute for 20th-century Latin American and Latino art. Additional resources include a repertory cinema; two significant research libraries, the Hirsch Library and the Powell Library and Study Center at Bayou Bend; public archives; a conservation studio; and an off-site storage facility.
The MFAH collections include in-depth holdings of Pre-Columbian and African gold, American art, European paintings, and distinguished international collections of modern and contemporary art. Particular strengths are in postwar American painting; postwar Latin American art, with a focus on Concrete and Constructive art from Brazil, Argentina and Venezuela, as well as contemporary photo- based work and large-scale installations; international photography, with notable concentrations in Japanese, Latin American and Central European photography as well as American and Western European; prints and drawings, including the entire 1980-1994 archive portfolio of Peter Blum Editions; and international decorative arts, craft and design, in particular contemporary.